LPS Separate Slip Rings Installation Guide
1.Install the static end of the separate slip ring first. Apply two screws to secure the stator end to the mounting holes on the slip ring stator. Make sure it is installed according to the designed center. Also, the distance between center line and mounting holes should be consistent. Ensure its axiality tolerance is within ±0.1mm.
2.Then install the rotor side of the slip ring. Insert the drive shaft through the central hole in the rotor and secure it with adhesive and screws, etc.
3.Adjust the concentricity and height of the separate slip ring. Make sure the stator brush wires on both sides have good contact with the rotor rings grooves. Ensure each brush wire is in the middle of the groove by direct eye observation. Avoid deviation from the groove. Make further adjustments after operational test to guarantee smooth functioning.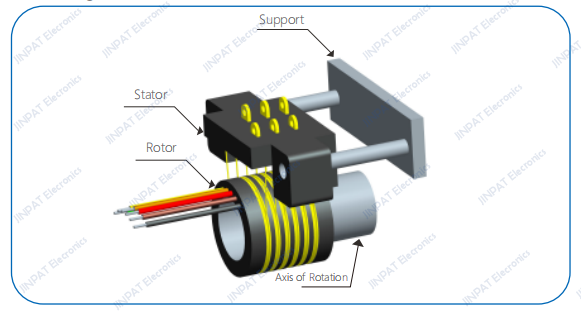 LPS Separate Slip Rings Precautions
1.Keep wires intact during installation to avoid any poor performances due to damage of the wire insulating layers.
2.Avoid rigid connection between the rotor and the stator. Adopt flexible connection between the two parts to allow concentric drive.
3.Stabilize the screws with locking measures to avoid loosening and dropping due to vibrations and shocks during operation.
4.The slip ring cannot bear the weight of its connected equipment. Also, wires should be free from extra pull and weight.
5.If wire leads of the rotor side are intended for providing drive to the rotation, please consult with our technical team to avoid damages to the leads.6.Do not disassemble the inner parts of the slip ring. If any problem occurs, please consult our customer service.