RoboMasters is a robot combat competition for Chinese college students. This annual robot competition was first kicked off by SZ DJI Technology Co.,Ltd. in 2013. RoboMasters becomes a grand stage for college students with robot R&D ability and innovation spirit. And on the robots, slip rings are necessary part to enable rotary transmission of power and signals. In the 2022 RoboMasters, JINPAT Electronics takes part in it as a slip ring sponsor. JINPAT slip rings are installed in the robots are you can see in the picture and videos.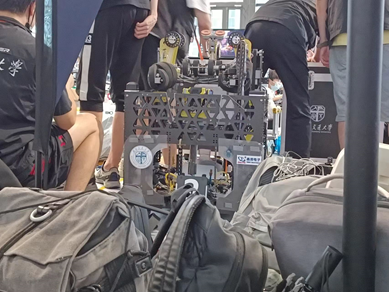 JINPAT Electronics is A Sponsor For RoboMasters
JINPAT Electronics, with years of experience in the slip ring industry, has developed several standard slip ring series. As for robots and robotic arms, JINPAT through bore slip ring LPT series, capsule slip ring LPC series and miniature slip ring LPM series are especially fit. The combat team calls for a custom slip ring that is based on the JINPAT LPT050-0615 slip ring model. The revised version is coded LPT050-0610-0602. There are 6 serial ports and 6 channels for CAN signal. Another slip ring used is the LPM-24A. There are two CAN channels and 4 serial ports. Both of them maintain a smooth joint rotation on the robot while conducting power and signal transmission.
Aside from the slip ring models mentioned, JINPAT Electronics provides many other slip ring options. You can contact us for more information.