Compared to other signals, Ethernet signalsappear with high frequency in JINPAT custom slip rings. Whether it's the capsuleslip ring, the pancake slip ring, or the hollow shaft slip ring, there are manyslip rings with integrated Ethernet signal models. As a pioneer in the slipring industry, JINPAT product customization rate is almost 95%. This means thatmany of their latest customized slip rings also integrate Ethernet signals,with the gigabit Ethernet signal integrated slip rings accounting for the vastmajority.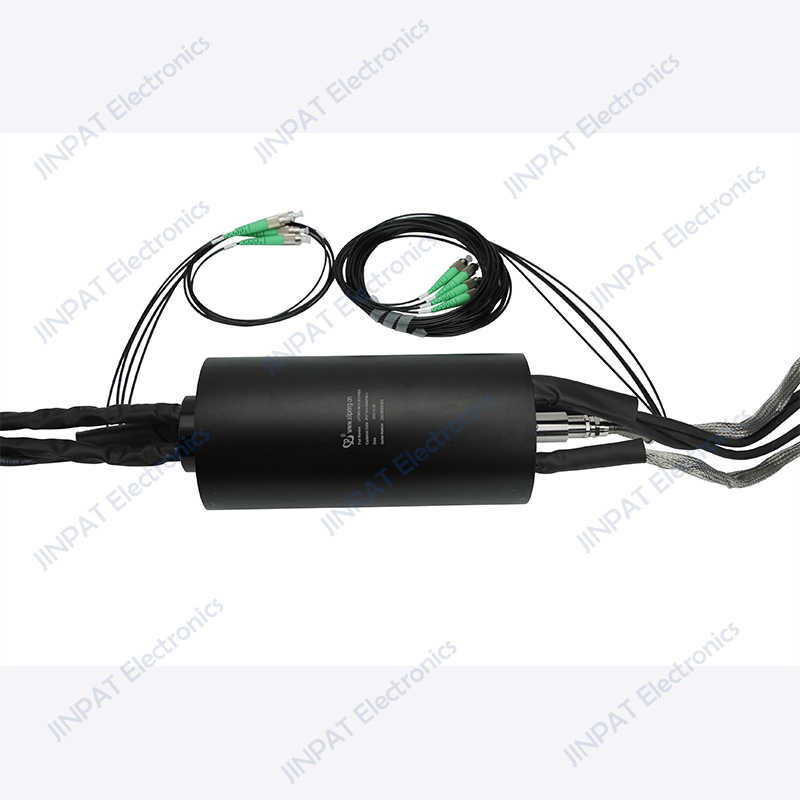 Let's take a look at one of the slip rings,the LPT000-7510-04E3, which integrates multiple power channels and gigabitEthernet signals on a hollow shaft. This product has 75 10A current channels inthe power ring section and 4 gigabit Ethernet channels in the signal module.Although it has a large number of channels, its functions are relativelysimple, as all the power channels in the power ring are 10A current channels,and all the signal modules are gigabit Ethernet signals. 10A current is one ofthe three standard current types for JINPAT hollow shaft, and the manufacturingtechnology is very mature. JINPAT is also a leading manufacturer of slip ringsthat integrate Ethernet signals. With high protection and structuraloptimization, this product has super high reliability.
Compared with the product that integrates75 10A channels, the LPT070-0525-0412-0607-4602-02E3 from JINPAT is composed ofmultiple power channels and gigabit Ethernet channels with differentspecifications. The power ring section includes 5-way 25A, 4-way 12A, 6-way 7A,and 46way 2A current channels, while the signal module only has 2 gigabitEthernet signals. This product's feature is that the power ring supportsseveral different voltage ranges, with the 25A current channel working at700VAC, the 12A part at 400VAC, and the rest of the power ring at 220VAC. Thesignal module is 24VAC, making it a relatively rare customized hollow shaftslip ring that combines high voltage and low voltage signals.